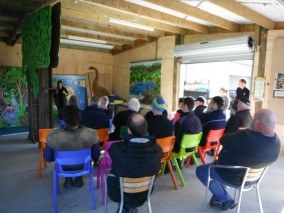 Check out Invercargill's best facility for "all weather" hands-on environmental learning.
The Nature Education Centre was built in 2013 as part of the Southland Community Nursery to enhance your group's visit and learning experience.
What you'll find inside
An enclosed workshop/classroom (12m x 12m) - suitable for messy activities such as potting up seedlings

Environmental Resources designed to cater for a range of ages and learning levels

Murals - depicting local Southland scenes

Tables, chairs, projector screen, whiteboard

Toilet, water, zip electricity

Outside attractions
Nursery - growing native plants
Vegetable gardens, fruit and nut orchard areas
Native plant restoration area, ponds and mature native forest
Gravel track
Parking
You'll find parking for cars and buses located at the entrance to 183 Grant Road. Follow the path through our orchard and vegetable garden area to the nursery and Nature and Education Centre.
Find out more
Find out more information about the Nature Education Centre and bookings.